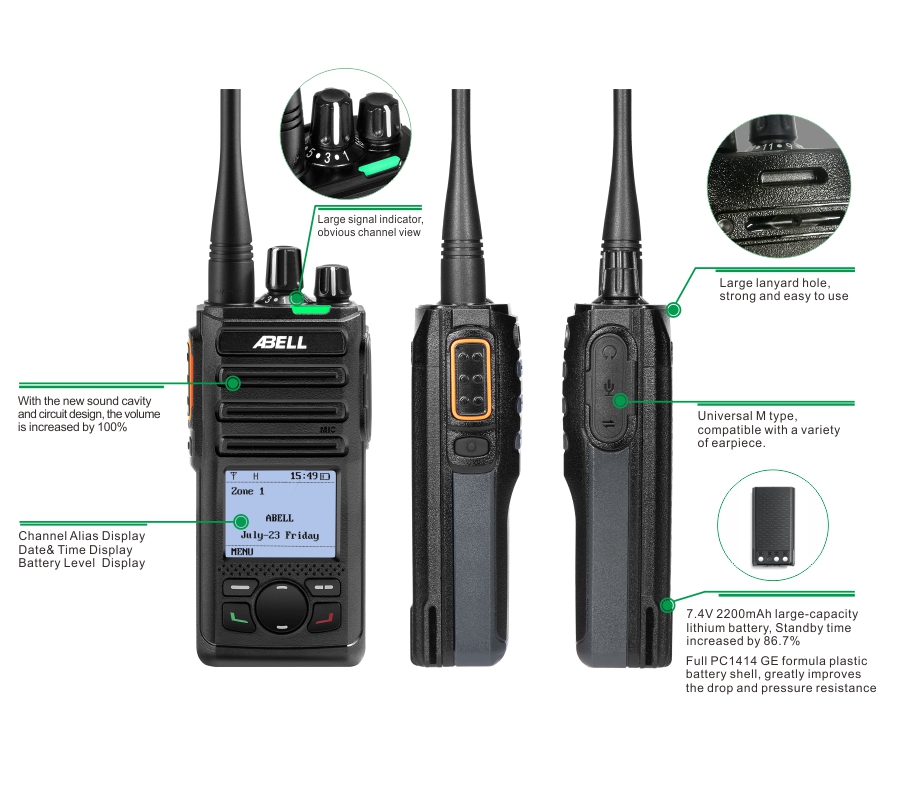 Features
256 Channels 16 Zones
IP66 dustproof and waterproof
2200mAh, 7.4V large capacity Li-ion battery
1.77" big screen, clock display, channelname display, etc.
Short delay, quick response
The new optimized circuit design, A580T goonline faster, with lower latency, and fast communication without losing words.
High reliability

Full Al-alloy chassis, PC+ABS housing,equipped with a full PC1414 GE formula plastic battery shell, greatly improvesthe drop and pressure resistance of the radio.
Voice encryption
Voice encryption and scrambling provideprivacy protection for users' calls.
VOX (hands free)
Specific for users who are not available topush PTT key to talk, with the VOX feature user can activate the PTT by voicedirectly, without pressing PTT key.
TDMA 2 slots at direct mode
2 slots of 1 frequency can be used to 2talk groups, reduce user frequency application and usage fees.
Voice broadcast
Support channel and battery power levelannouncements,easy to know the current channel number and real-time batterylevel for timely charging.
Dual mode (digital & analog)
Smooth transition from analog to digital.
Special optional functions
1.Built-in AI noise cancellation
2. Long-time lasting recording,support both digital and analog recording, and record playback.